While we love having visitors and sharing our little piece of agriculture with you, we are also a working farm. So we do not offer visits or farm tours all the time. As we saw this past spring and fall with avian influenza it can put the animals health at risk to have the farm open to roam all the time.

We felt the best way to share our farm with you and let you get a closer look at the animals and what goes on here would be to have open days and different events throughout the year.

Watch here for all upcoming events!

Join us for our 3rd Annual Pumpkin Party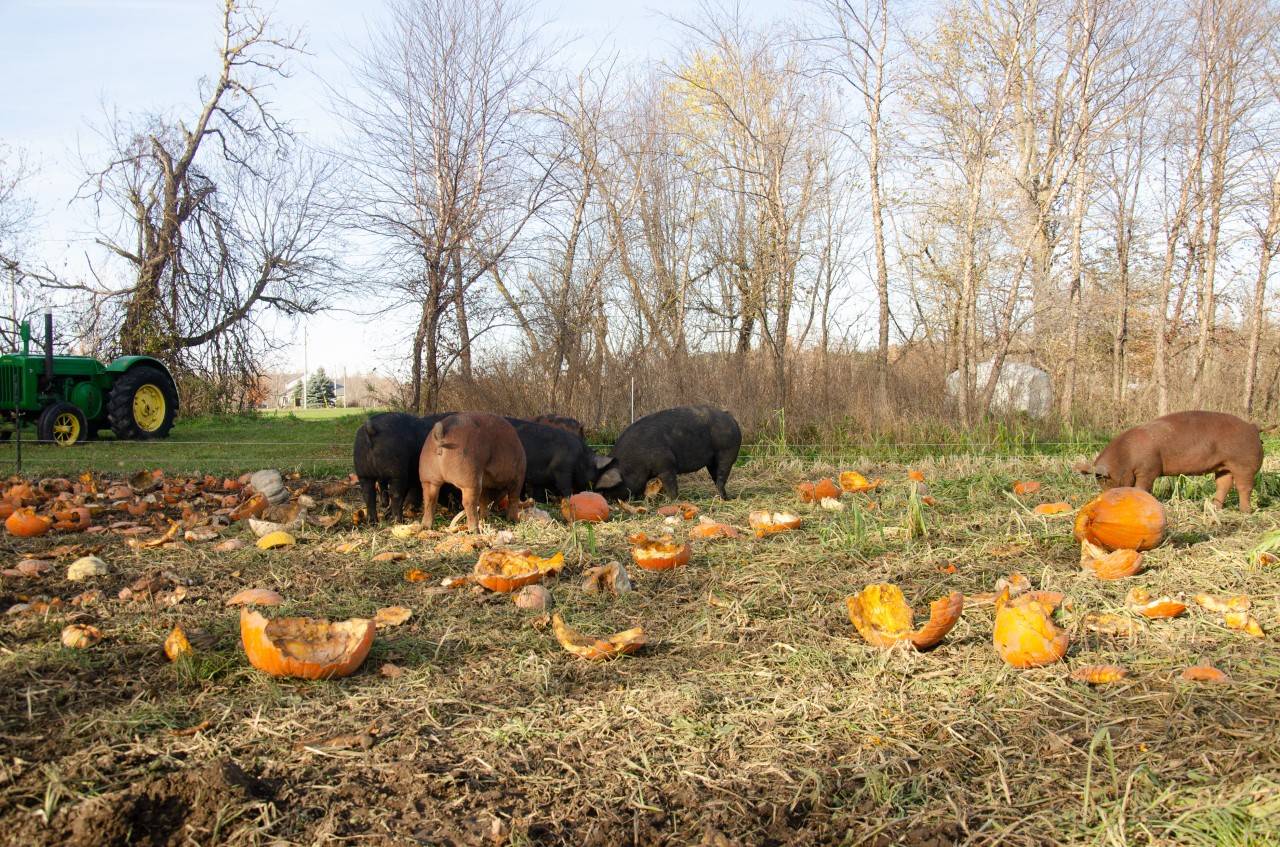 What
We're upcycling your Halloween and fall decor! Grab your pumpkins, carved or not and head out to the farm to feed the animals. Our pigs, cattle, chickens and goats love this fall treat, and a added bonus its good for them! Visit with the animals, meet your farmer, and learn more about how and where your food is raised! The fire will be on to keep the fall chill away and we'll be serving hot chocolate and apple cider. Joining us over lunch? We'll have the barbecue on cooking a variety of our sausages too!

After your visit on the farm, make sure you stop by our farm store to check out all our farm raised products. We carry a variety of chicken and pork cuts all raised right here on the farm by us.

This year we have expanded our vendor area and have a great line up for you to shop some of our favourite local businesses and maybe get a head start on your Christmas shopping!

Vendors

Mapleton Acres
Magpies Doughnuts
Knightswood Clay House
The Revival Company
Farnham Flats
Stewart Signature Design
When
Sunday November 6 10am- 4pm

Where
At the farm- 8507 Line 6 Kenilworth, ON
We do ask that any pumpkins you're bringing to feed to the livestock are free from any agents that have been used to preserve them. We also ask all toothpicks, paint, ribbons, decorations have been removed before coming to the farm. The animals health, and safety is our top priority, and we want to be able to run this event for many years to come. Your help with this is greatly appreciated.

Any pumpkins we deem unsuitable for consumption will not be wasted. We have will still be accepting these pumpkins to add to our manure pile. There they will break down, and turn into nutrients to feed the soil that then grows crops to feed the animals. It still comes full circle!

*** This is an outdoor event and will run rain, shine or snow. Please dress accordingly, boots are always a great idea. We also ask that you leave all pets behind. We have working dogs on our farm and they will see other animals as a threat to their livestock.

We cant wait to meet you, catch up with friends and share our farm and our practices with you!

Unable to join us but would still like to upcycle your pumpkins? We'll have a bin set up at the end of our driveway beginning November 1st. Drop by any time to drop your pumpkins off. We'll make sure the animals get to enjoy them.